"Thou Shalt Not Stand Idly By." – Elie Wiesel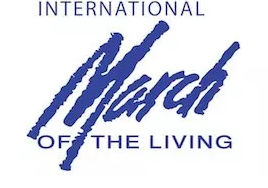 Travel with us on a once-in-a-lifetime journey of remembrance and renewal as part of the Adult Delegation to the International March of the Living.
Together, we'll spend nine memorable days celebrating the historical achievements of the Jewish People in Europe and bearing witness to all that was lost. Our itinerary includes visits to Krakow, Majdanek, Warsaw, Treblinka and Tykochin. Our program coincides with Yom HaShoah, Holocaust Memorial Day, when we will march in unity with thousands of young people from Auschwitz to Birkenau and take part in a special ceremony attended by dignitaries from around the world.
The March of the Living is a highly emotional travel experience. More than a tour, this is an opportunity to bear witness to one of history's darkest hours, recommit yourself to the Never Again imperative, and reinforce Jewish values of compassion, tolerance, and action.

This March of the Living experience for adults is jointly organized by BBYO Passport and Authentic Israel. The program is led by Dima Gohshtet, an acclaimed Jewish educator and a professional guide.
---
PROGRAM ITINERARY
The following is our projected itinerary, subject to reasonable change based on local considerations:
Sunday, April 28, 2019 | Depart for Poland
Depart from JFK Airport in NYC at 5:10pm on an EL AL charter flight
Travelers have the option to arrange their own flights as well
Monday, April 29, 2019 | Introduction to Jewish Europe
Arrive to Warsaw at 7:35am, and meet our local staff team
Meet up as a group and travel to Krakow, stopping to explore Lodz en route, including the Lodz Ghetto and Radegast Train Station
Arrive to Krakow in the late afternoon
Welcome dinner and group night out in Krakow's Old Town Market Square
OVERNIGHT: Holiday Inn – Kraków, Poland
Meals Included: Dinner
Tuesday, April 30, 2019 | Krakow Ghetto
Begin the morning in Kazimierz – Krakow's historic Jewish Quarter dating back to the 14th Century – including stops at the Remu Synagogue, Tempel Synagogue, old Jewish cemetery and Jozefa Street
Trace the history of the Holocaust at the Krakow Ghetto, the Plaszow Labor Camp and the Oscar Schindler Factory – now the Historical Museum of the City of Krakow
Visit the Krakow JCC, now the center of modern Jewish life in Krakow, where we'll meet with a community leader over dinner at the JCC
OVERNIGHT: Holiday Inn – Kraków, Poland
Meals Included: Breakfast & Dinner
Wednesday, May 1, 2019 | Auschwitz & Birkenau
Arrive at the grounds of Auschwitz II – Birkenau where the full horror of the extermination of 1.5 million Jewish People is palpable (packed lunch provided)
Continue on to Auschwitz I, the original camp that served as the administrative center for the entire complex. We will tour the watchtowers, fences, cell blocks, wall of death, crematoria as well as the Arbeit Macht Frei Gate (lunch is provided en route)
Reflections and ceremony at the restored Oświęcim Synagogue near Auschwitz
Evening: Group processing and sharing opportunities
Free evening and dinner on own in Krakow
OVERNIGHT: Holiday Inn – Kraków, Poland
Meals Included: Breakfast & Lunch
Thursday, May 2, 2019 | Yom HaShoah – Holocaust Remembrance Day
Return to Auschwitz and join thousands for the March of the Living
Take part in the official Yom HaShoah ceremony at Birkenau attended by political leaders and dignitaries from Poland, Israel and beyond (lunch is provided en route)
Evening: Group night out and dinner on own at Market Square in Krakow
OVERNIGHT: Holiday Inn – Kraków, Poland
Meals Included: Breakfast & Lunch
Friday, May 3, 2019 | Majdanek and Lublin
Depart Krakow and travel north through Poland's Galicia countryside (lunch is provided en route)
Majdanek concentration camp originally set up in July 1941 for prisoners of war but soon turned into a camp for Jews and Poles
Arrive to Warsaw, check-in to our accommodations and prepare for Shabbat
Experience Kabbalat Shabbat services at the historic Nozyk Shul followed by Shabbat dinner
OVERNIGHT: Warsaw Marriott Hotel – Warsaw, Poland
Meals Included: Breakfast, Lunch & Dinner
Saturday, May 4, 2019 | Warsaw Ghetto Uprising
Shabbat programming options and lunch in Warsaw
Uprising! – Explore the remains of the Warsaw Ghetto and learn about the Jewish community's famous revolt along the Route of Heroes and at Rappaport Memorial
Umschlagplatz – Gathering place before transfer to Treblinka Death Camp
Visit the groundbreaking Museum of the History of Polish Jews (POLIN)
Havdallah – Mark the end of Shabbat and the start of a new week
Evening: Group night out and dinner on own in Warsaw's historic Old Town Marketplace
OVERNIGHT: Warsaw Marriott Hotel – Warsaw, Poland
Meals Included: Breakfast & Lunch
Sunday, May 5, 2019 | Treblinka
Travel to the historic Jewish village of Tykochin and onto the Lupachowa Forest (lunch is provided en route)
Final reflections and ceremony at the Treblinka Memorial
Return to Warsaw for a closing dinner and farewells
OVERNIGHT: Warsaw Marriott Hotel – Warsaw, Poland
Meals Included: Breakfast, Lunch & Dinner
Monday, May 6, 2019 | Returning Home
Enjoy a free morning to explore Warsaw on your own
Pick-up from the hotel at 1:00pm for an airport transfer to Warsaw Airport
Our group flight on Lot Airlines #26 departs Warsaw at 4:45pm and arrives JFK Airport at 8:05pm
Meals Included: Breakfast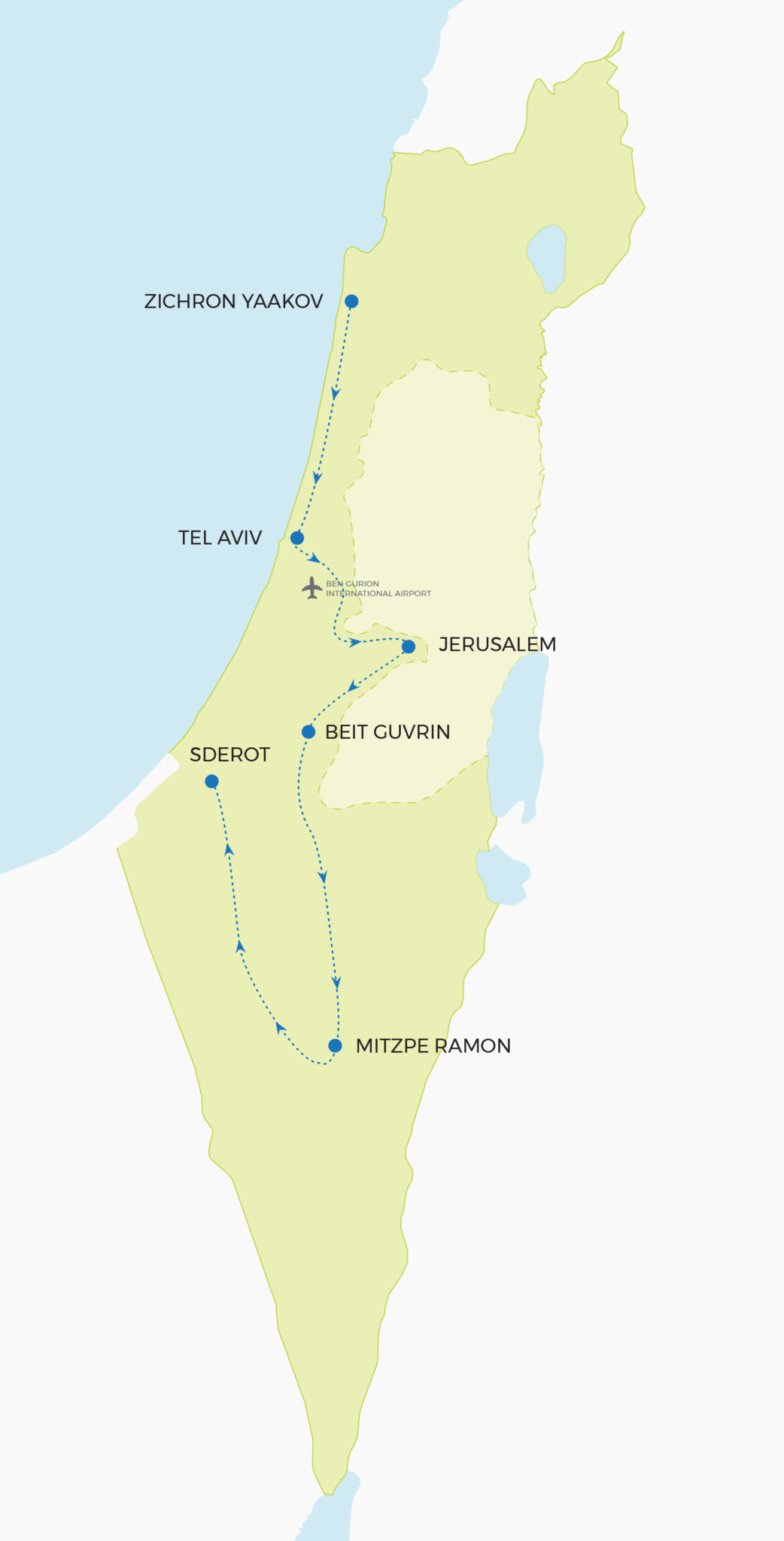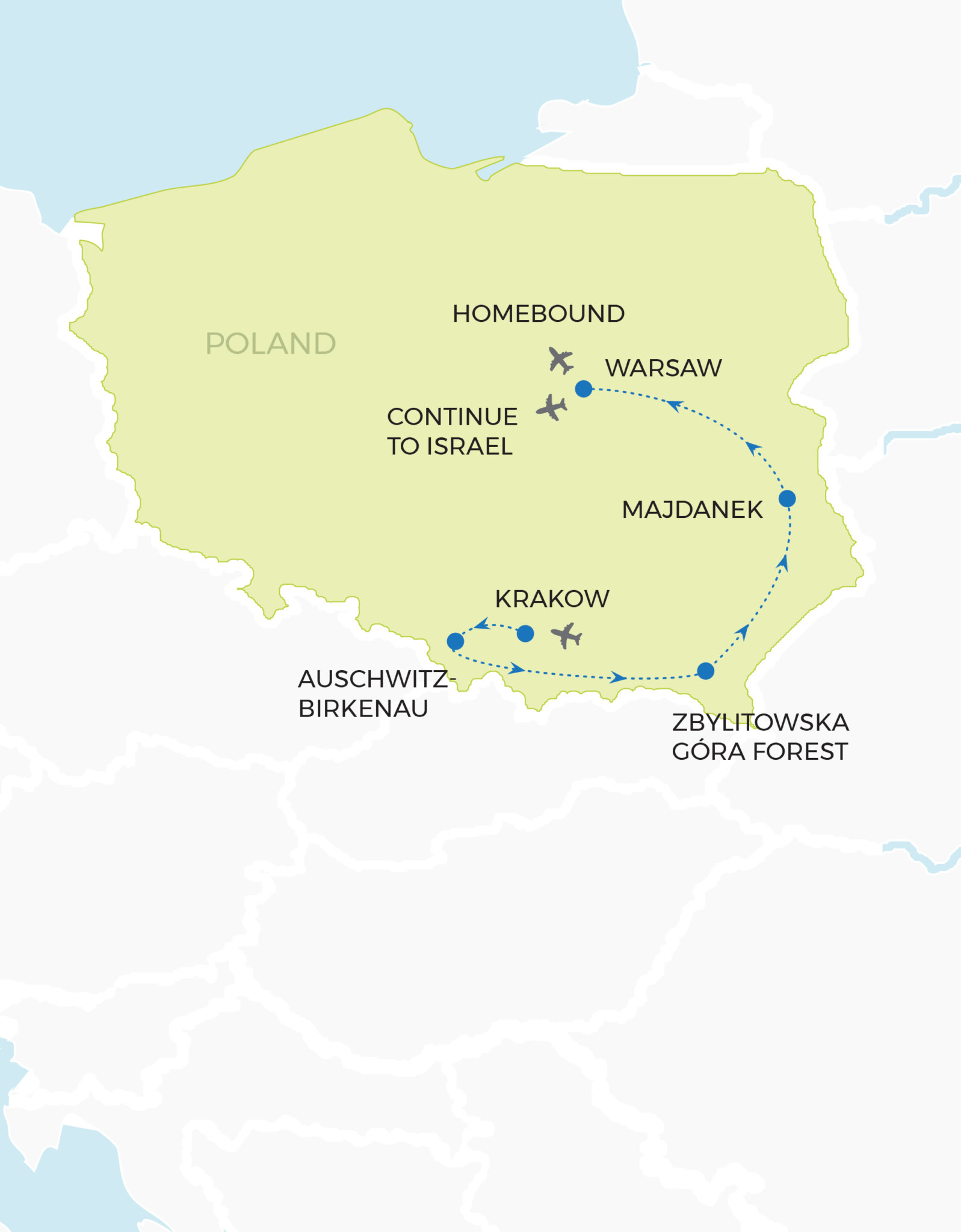 WHAT'S INCLUDED
An optional group flight from JFK Airport in NYC
Airport transfers for the arrival and departure in Poland for those traveling on the group flight
A Jewish educational guide, a local Polish tour manager and a security escort accompany the group
Centrally located 4* hotels in Krakow and Warsaw
Breakfast daily and additional meals per the itinerary
Luxury private air-conditioned touring bus
All programming and site entrances per the itinerary
VIP reserved seating at the Yom HaShoah (Holocaust Memorial Day) ceremony
Staff and driver gratuities
Not Included: Travel insurance (a group policy is optional), meals not noted as included in the itinerary, and hotel incidentals
TRAVELING TO AND FROM POLAND
An optional round-trip group flight is offered from JFK Airport in New York City. Exact flight details will be released around January 2019, and participants are encouraged not to make connecting travel plans till the international flights are confirmed. Travelers who elect to arrange their own flights to/from Poland will also be responsible for their arrival and departure airport transfers unless otherwise arranged through out office. Travelers wishing to arrive early to Krakow or extend their stay in Warsaw can be accommodated at the group hotels based on the group hotel rate and according to availability.
---
WHAT IT COSTS
Land + Flight Package: $3,950/person

Land Package: $3,050/person
The above rates are based on double room hotel occupancy. Single room hotel occupancy is available for a supplement of $800.
REGISTRATION
Sign up for March of the Living for Adults by completing the online registration form
ENROLLMENT UPDATE | A very limited number of spaces are still available for adults wishing to take part in the March of the Living 2019
PAYMENT & CANCELLATION TERMS
To reserve your spot, a $250/person deposit is due at the time of registration
The deposit is fully refundable up till November 26, 2018, after which all payments are non-refundable
An additional $750/person payment is due by December 1, 2018
The balance of program costs is due by January 15, 2019
Cancellations must be made in writing, and we encourage you to obtain our group-discounted travel insurance policy
Payments may be made by check or credit/debit card, however, a 3% processing fee applies for credit/debit card payments (does not apply to initial $250 deposit). Note: credit card fees are not refundable
The program is subject to a maximum of 40 travelers
BBYO and Authentic Israel reserve the right to deny acceptance on the tour according to its discretion
---
FAQs
Who staffs the tour?
March of the Living for Adults is led by a professional Jewish educator/guide who escorts the tour on a 24/7 basis. Our program leader is joined by a local Polish tour manager and a security escort.
Will we be traveling with teens?
March of the Living for Adults is an official part of the overall March of the Living initiative, but we travel independently of the many teen groups who comprise the majority of the program. We stay at separate hotels, have separate meals, and we travel with our own separate staff team. For those who wish, there will be opportunities for some shared moments with the BBYO National Teen Delegation.
How active is the touring?
March of the Living for adults is intended for active adult travelers. Our days are full of experiences designed to provide you with as complete and as emotionally rich an experience as possible. Although the program does not have age guidelines, the itinerary involves a good amount of walking and some long travel days in general.
Is the tour kosher and Shabbat observant?
March of the Living for Adults is a pluralistic Jewish travel experience open to all. Group meals are kosher and other meals are own at the traveler's discretion. All touring on Saturdays is by foot, and there are opportunities to participate in local Shabbat services.
How are special dietary needs accommodated?
Travelers can note any special dietary needs as part of online registration. We will coordinate with our catering partners to arrange special accommodations wherever possible.
Can I leave Poland a day early?
Yes. Please contact us to make special arrangements.
Can I use half of the group flight only?
Yes. Please contact us to make special arrangements.
Can I upgrade to business class on the group flight?
Yes. Please contact us to make special arrangements.
Do I have an opportunity to continue on for the Israel portion of the March of the Living?
Yes. It is possible to carry on to Israel as part of BBYO's National Teen Delegation. Please contact us to learn more.
How do I get ready for the trip?
Detailed pre-trip material is distributed approximately three months prior to arrival. You'll also be invited to a trip Facebook group to connect with fellow travelers before the program and stay in touch afterward.